SOFTWARE LINEUP in ALL JAPAN AERA

LISIT offers original developed software and OEM reseller best medical software in the world.
LISIT Software Lineup
・GPU-based Real-time 3D and 4D Visualization and Analysis tool "ORS-Visual" (Developer: Object Research Systems,Inc.)
・Specialized Software for Clinical Trials (WHO, RECIST1.0, RECIST1.1, Choi Criteria,Immune-related Response Criteria (irRC),Bruce D. Cheson Criteria for Lymphoma Analysis)ソリューションソフトウェア "Mint Lesion" (OEM Partner: Mint Medical GmbH)
・Economic and Smart PACS products"iQ System PACS Series" iQ-View, iQ-NUC, iQ-PACS on Web, Light and High Speed DICOM tools(Developers:Image Information Systems Ltd.)
・mixed GGO (ground-glass opacity) -Quantification tool "WatchinGGO"
・Liver 3D Simulator for Surgery "Mint Liver" (Mint Medical GmbH)
・PET-Quantification Tool "PET Analyzer 0.1"
・Image Quality Management Tool(contain CT patient exposure dose calculator)
・Fat Distribusion Analyzer CT/MRI body fat measurement"FatVizCalc"(handling Both CT and MRI)
・Fatty Liver Analyzer"CT Mapping"Measurement of fat deposition in the organs
LISIT Software Developing Service
LISIT sells also our original developed software for "Disease-based" solutions as following: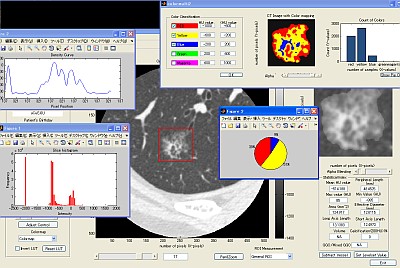 Figure shows one of our developed software "GGO:ground-glass opacity texture feature analyzer".
Software supports : (1) Automatic segmentation of GGO, (2) measurement of the area of the GGO, and (3) measurement of the vanishing ratio (VR) between the area of lung cancer nodules on thin-section CT images taken with the lung window setting and the mediastinal window setting
・2D,3D、Automatic Segmentation:Measure long and short-length of tumor
・DICOM input and output(every image format can load on demand from user)
・GGO enhance filer (LISIT original filter)
・Mixed GGO (Pure GGO ratio calculation):GGO texture measure
・Calcification (Estimation of Calcification ratio)
・RECIST 1.1 Support (Automatic Measure long and short-length of tumor and PET-CT fusion)
・Histogram Analysis
・3D Visualization(VR,MIP,MPR)
・Function of image processing(Geometry Analysis、Profile、Pixel measure、Fractal Analysis etc)
・TEXT and CSV files save of measured data
About more LISIT SOFTWARE -> Contact US:


E-mail to LISIT here
Model of collaborative development of Disease-based Medical Image Analysis Tools
Schematic explanation of supporting Research and Development in Academic and Educational Sites :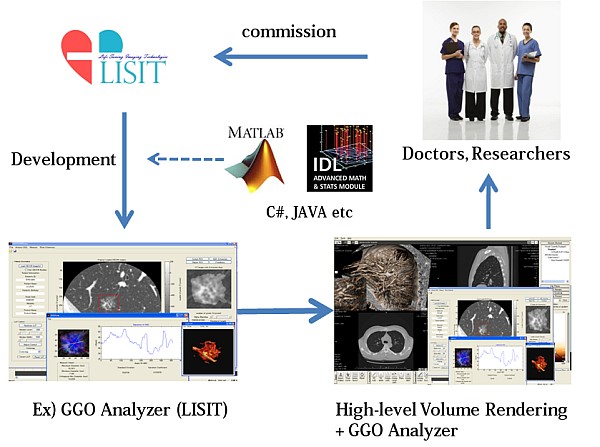 LISIT: List of Original Developed Software
・LUNG Cancer Analyzer "Cancer Measure Ver0.5"
・PET Image Analyzer "PET Analyzer 0.1"
・DICOM based Effective Patient DOSE Calculator (handling AEC, Dual Enargy System)