LISIT.,Co.,Ltd.(LISIT:Life Saving Imaging Technologies, Inc)
LISIT founded in 2010, is a first company to fullfil the integration of clinical and medical imaging research and out-sourcing analysis service with mainly medical scientific technology aspect (MEDICAL IMAGING CORE LABORATORY: radiological technology and medical physics) in JAPAN. LISIT specializes in medical imaging analysis and management services on Clinical Trials mainly molecularly-targeted drug, anti-cancer drug with RECIST 1.1 (contain mRECIST HCC, EASL Liver Criteria), Cheson2007, Choi, irRC and PERCIST supporting, Additionally, COPD, Alzheimers dementia and cardiovascular disease based on international guideline. Our highly trained workforce and extensive industry and research experience have made LISIT an industry first "ROBUST" service in making clinical trials procedure, medical registries and advanced radiographic image analysis. We aspire for a world class company committed to technological advancement, procedural accuracy, and product excellence.
LISIT promise performing rapid and smooth translation of technology not only using our original developed software and FDA approval OEM 3D workstation but also using excellent open-source software made by international prestige college.
・
LISIT,Co.,Ltd. Business Brochure(LISITBrochure(EngVer2).pdf)Download HERE!
The first introduced Japanese economic integrated medical imaging cloud service
Not only cloud storage service, We LISIT can supply specialist knowledge required to build the integrated PACS and transfer the large volume colorful DICOM data using DICOM cleaning, normalization and hospital specific data transfer flow management. ・LISIT supports to make safely and economic cloud network system using like GOOGLE drive, BOX and Kitedrive with HIPPA(The Health Insurance Portability and Accountability Act). ・Professiona DICOM Cloud Service ・Remote Central Review Committee for Clinica Trials.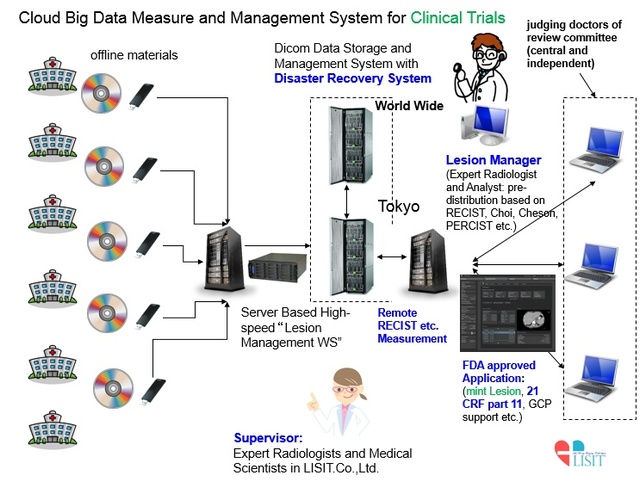 Imaging Analysis Service corresponding to a Multidisciplinary Approach to Cancer
The significant role of imaging can be seen in the continued growth in the numbers of scans performed earch year by advanced imaging techonologies.

What's New
2014/1/20

LISIT signed Google Apps HIPAA Business Associate Amendment.


2013/12/08

Certificate of Merit Prize in RSNA2013。 LL-CHE3091 Spectrum of Progression Curves for Subsolid Nodules: Detection in Low-Dose CT Lung Cancer Screening and Prospective Observation for 8 Years Ryutaro Kakinuma MD, PhD | Shuji Yamamoto PhD | Yukio Muramatsu MD | Masahiko Kusumoto MD | Akiko Maeshima | Koji Tsuta MD | Hiroaki Onaya MD | Hisao Asamura | Noriyuki Moriyama MD, PhD


2018/8/23

Distributor Agreement with MedXT (Craliso.inc)


2012/4/17

LISIT now became a distributor of KeyStone Products developed by Mach 7 Technologies Pte Ltd.
Mach 7 Technologies Pte Ltd.
Mach 7 Technologies Pte Ltd. Web Site Here

2011/12/21

LISIT and Image Information Systems Inc (Rostock, Germany) have signed AUTHORIZED PARTNER CONTACT.
Image Information Systems,Inc
Image Information Systems,Inc Web Site Here

2010/12/21

LISIT and Mint Medical (Heidelberg, Germany) have signed AUTHORIZED PARTNER CONTACT.
Mint Medical
Mint Medical Web Site Here

2010/04/08

We now became a distributor of ORS Visual (Object Research Systems Inc. Montreal,Canada) ORS Web Site Here
Gallery of ssociated technology