The highest level of quality and reliability of Lesion Management Service: Medical Imaging Core Laboratory

LISIT Co., experts in image analysis and research with experience of clinical practice more than 15 years in Dept. of Radiology and Bio-Imaging Science. LISIT,Co. is sufficiently familiar with "Validation based CT,MRI and PET imaging protocol not "only clinical experience but rather "Validated Approach" based on radiological technology and medical physics. LISIT comply with international standards and guidelines of clinical trials (GCP, 21 CFR Part 11, FDA, DICOM standards and DICOM WG18 recommended Anonymous)
Moreover LISIT,Co. support clinical trial data management on secure Cloud networking collaborated with reliable major PACS venders
Lesion Management Service Contents of Clinical Trials
RECIST 1.1, Cheson, PERCIST, irRC and Choi etc.:
LISIT,Co. provides DICOM Viewer best fitted for RECIST 1.1 approval FDA (Food and Drug Administration, USA).
GMP, GCP, QSR, HIPAA and Part 11 compliant
. PET-CT Fusion (Real-time Volume Processing)
. Automatic long and short-axis length measure (LISIT developed Option)
. SUV(Standard Uptake Value) Measurement Tools for PERCIST (LISIT developed Option in First Introduction in JAPAN)
. SUL(SUV narmalized to body mass, lean body mass),Calculation (LISIT Original developed Multi ROI and VOI statistical Analysis)
. Synchronized 2D and 3D viewing (Synchronized Z-axis position, Field of View, Window/Level, multi series MRP etc)
. Reporting

LISIT Criteria Correspondence
・RECIST1.0 and RECIST1.1
・WHO
・Choi Criteria
・irRC and ir-RECIST1.1(immune-related response criteria)
・Bruce D. Cheson 2007
・PERCIST (Evolving Considerations for PET Response Criteria in Solid Tumors)
・enhanced Volume RECIST
・mRECIST HCC(Modified RECIST assessment for hepatocellular carcinoma.)
・EASL Liver criteria
・McDonald and RANO
・ir-RECIST1.1(immune-related Response Evaluation Criteria for Solid Tumors)
Furthermore, LISIT offer the reliable protocol of any CT (Toshiba, GE, Siemens and Phillps etc) using strict standard LEXIS base on RadLex for RECIST 1.1 and PERCIST
Clinical Trials Review Committee for Imaging and Digital Reading (Central and independent review)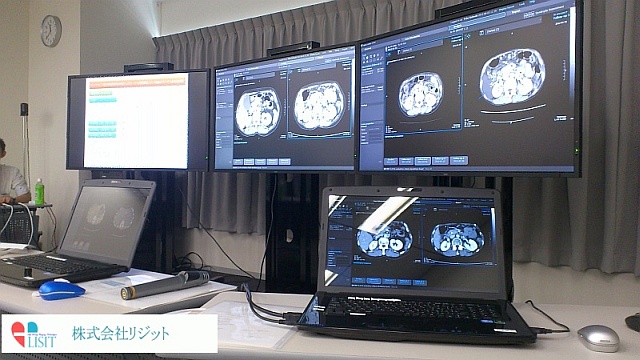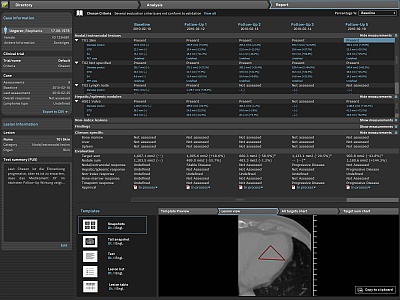 ・Figure shows the scene of measure long and short axis length synchronized coronal, sagital and axis CT slices
・LISIT offer a unique warranty of measurement to pharmaceutical companies and CROs
・CT and PET fusion and synchor measure of long and short axis length.(See Figure)
・Save and load measured long and short axis lenght for RECIST(Good time efficency of measurement)
Consistency check of CT protocol before execution: (follow start-up meeting)
LISIT helps smooth and rapid clinical trials. (Manual preparation, form of exposure protocol or CRA trainning etc)
World Wide Clinical Trials using Cloud Remote Lesion Management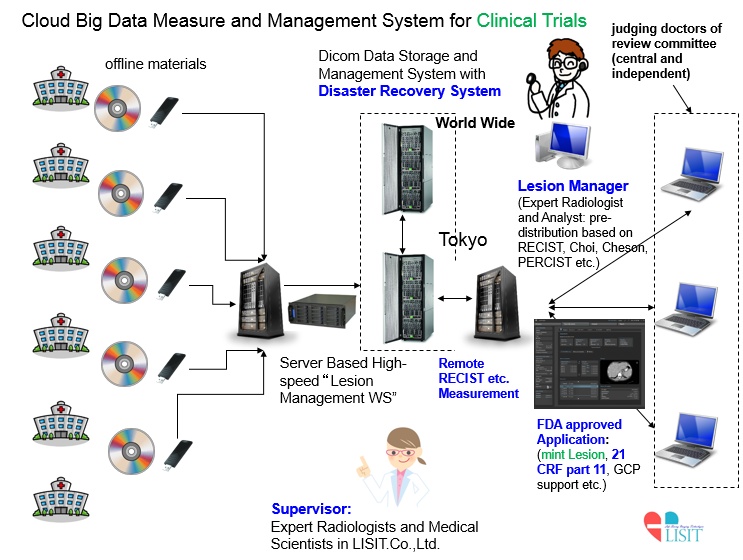 Strong point of LISIT Service !
LISIT staff has over 15 years professional experience in clinical and bio imaging
Experiments services using Phantom with international standard method:
LISIT provide the form of guaranty of medical imaging device (CT,MRI,PET and US etc) by using international certified Phatom (Ex: CatPhan, COPD gene by Phantom Laboratory,USA)
Strong point of LISIT Service !
Provide measurement sheet using CatPhantom, COPDgene and CE-marked Phantom by professonal medical physics experts

CatPhantom and Lung COPD Phantom:etc
Acquisition of medical image data , masking (Anonymous) services:
LISIT,Co. use internatinal validated masking (anonymous) tools developed by MIRC (Medical Imaging Resource Center of RSNA Radiology Informatics Committee).These software is made based regulation of DICOM Working Group 18. In addition, this set of images collected by the remote image distribution system will be managed with a high-security central server (Data managment system for clinical trials). This process of masking DICOM data is first performed by "LISIT" in JAPAN.
Strong point of LISIT Service !
LISIT do not use general purpose DICOM anonymization on DICOM viewer, but use International CTP by MIRC recommended RSNA
Analysis Medical Imaging (Imaging Core Lab Service):
LISIT performs medical image analsys optimized for every diseas and cancer under the research of well validated methods and algorithms. This work was controled by our "Medical Imaging Core Labo" based on SOP ( Standard Operating Procedures).
Contact information here:


E-mail